Tasteaholics are a very important blog for me, So I always do what I can to support them with their keto in 5 release, as they supported me so much in my starting days of being a food blog.
I'm very excited to announce that Rami and Vicki have just released their Cookbooks in Hard Covers! For everyone who has been asking me whether I have a paperback book, trust me, it's a little while away. Rami said it took them over 6 months to make these books perfect!
And just in time for the holidays – their Keto in Five eCookbook series is finally available in paperback format! I couldn't be more excited for them that their recipes can find their way into your hands physically.
Reimagined and Redesigned
In the new and improved Keto in Five series, you'll find more detailed ingredients and instructions, added cook time and prep times, cooking tips, updated photos for many the recipes and tons of added valuable information on the ketogenic diet.
In addition, each book has been beautifully redesigned and packaged in a way we know you (or whomever you gift) will love!
So whether you want to snag a copy for yourself or as a gift for your loved one who's just starting their health journey, don't delay – you don't want to be without the perfect gift this holiday season.
Please note: They are working on a 4-in-1 Keto in Five combo book which will feature all the recipes in one ultimate collection, however, it will not be published in time for the holidays.
But some of you might be asking What Is Keto In Five?
Keto in Five… in five points:
Keto in Five can be summarized in 5 key points that they think make them an unbeatable gift for anyone this holiday season:
Each book (4 in total) is full of 30 low-carb, keto-friendly & gluten-free recipes. That's 120 delicious recipes with gorgeous photos accompanying each one!
Every recipe in this series is up to 5 grams of net carbs per serving! Meaning you could choose 1 breakfast, 1 lunch, 1 dinner and 1 dessert and still be under your daily carb limit!
To make it even easier, they use only 5 ingredients in every recipe. They're quite common ingredients with a few more interesting ones sprinkled throughout.
They calculate the nutritional information for all recipes so you don't have to!
Finally, their Keto in Five series is backed by many of the world's top low carb and keto influencers such as Carolyn of AllDayIDreamAboutFood.com, Martina of KetoDietApp.com and Lisa of LowCarbYum.com! Want to read what they think? They encourage it!
Want them in our original PDF format?
No problem! They're always available for instant download on trylowcarb.com: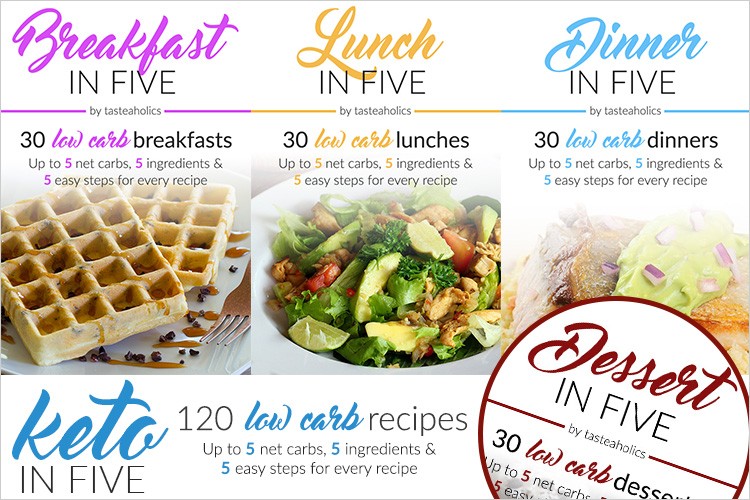 Related