Keto Corn Flakes
Keto Corn flakes are a low carb alternative to my favourite cereal, corn flakes! Its amazing how simple corn flakes are… but ordinary corn flakes are loaded with sugar!
These corn flakes have 6g net carbs, so may not be strictly keto by themselves, but if you eat them with a high fat milk alternative (i.e. coconut milk) they should come down to a pretty tasty keto cereal.
Nutrition Facts
Keto Corn Flakes
Amount Per Serving
Calories 328
Calories from Fat 252
% Daily Value*
Total Fat 28g 43%
Total Carbohydrates 6g 2%
Protein 12g 24%
* Percent Daily Values are based on a 2000 calorie diet.
Keto Corn Flakes and Exercise
These keto corn flakes are perfect for a post workout breakfast, and make you feel like a champion on the inside. No more sugary demons robing you of all your hard work after you've sweated those glycogen stores dry.
They are not as crisp as normal cornflakes. This isn't so disappointing if you take into account the fact that you won't have diabetes immediately afterwards…  Diabetes is a serious matter.. not joking around here!
This Weeks Low Carb / Ketogenic Recipes
This week I have been attempting to make a few creative recipes which are easier to drool over than to whip up at the drop of a hat. However, sometimes we just want to find that someone has found the answer, and to save the recipe for a rainy day when the corn flake blues really get to you.
Yesterday I made the best type of Low Carb Bread I've ever tasted. You can check it out here.
Please share the keto corn flakes recipe around to all your friends who think that going low carb is impossible. Friends don't let friends eat carbs! Healthy fats and low carb recipes may not work for everyone, but for those who need it most, maybe these recipes might just change their life.
Keto Corn Flakes
They don't really contain corn. Its just easier to describe them as corn flakes as opposed to almond flakes. Sort of like describing almond milk instead of nut juice… you get the point!

Breakfast With Only 5 Carbs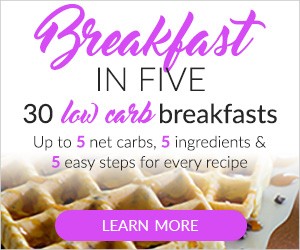 Preheat oven to 160 c (350 f) degrees. Line a baking tray with baking paper (Parchment paper) and grease lightly with butter.

Whisk together almond flour, natvia and salt. Add vanilla extract and water.

Pour mixture onto prepared pan and spread out evenly. You want a nice thin layer.

Bake for 10-15 minutes, keeping a close eye on it, until the mixture has dried out and cracked.

Remove from oven, let it cool, then use your hands to tear and crack the dough into small flakes. Return to oven and let bake on the center rack for about 10 minutes or until pieces are toasted, crisp, and golden