Keto Cheesecake – New York Baked Cheesecake
I made this delicious Keto Cheesecake recipe for my Dad on his birthday. He loves cheesecakes.. almost as much as me! I guess the keto cheesecake taste must run in the family.
Let's get a Hip Hip, Hooray!
I've made this Keto Cheesecake before, however I have since upgraded my photography skills. It was about time this recipe got some more thought and care on the decoration.
MY OTHER RECIPES
Keto Cheesecake (new york baked cheesecake) is a simple recipe. The only downside to it is that it just takes a while to let the oven cool once the cooking time has completed.
This Keto Cheesecake recipe contains eggs, which give it a magnificent rising effect. This also gives it the ability to crack on the top, However this is easily fixed with some cream and blue berries (or any other berries you so desire).
Low Carb Recipes that you can easily make
FatForWeightLoss is going through some changes, and I'm really liking it! My goal is to make these ketogenic recipes easier for you so that weight loss becomes effortless.
This week's recipes will be staring cheese, salami , stevia and tomatoes (not necessary, but make for some wicked colour combinations)
Todays recipe is Keto Cheesecake – New York baked cheesecake!
I'm eating these for lunch during this week, and will combine the recipes together in a blog post so that you can do the same!
Keto Cheesecake – New York Baked Cheesecake
Less Ingredients, less waste!
Nobody likes recipes that requires hundreds of different ingredients just to make it taste like "The Real Thing".
On top of that, no one likes it when they have to buy all of those different ingredients, only to throw them away a week later because none of the other recipes required any of the same ingredients.
I've done the keto recipes that contain hundreds of different ingredients, and as much fun as they are to make and share with your friends, I'm not sure anyone would have actually made them…
Finding simple ideas for ingredients that you already have is what I strive to turn my website FatForWeightLoss into. A helpful resource to aid in simple ketogenic nutrition without all the complications and associated costs.
If you like this idea, let me know in the comments below. It really helps me when I receive feedback, good or bad!
Nutrition Facts
Keto Cheesecake - New York Baked Cheesecake
Amount Per Serving
Calories 315
Calories from Fat 243
% Daily Value*
Total Fat 27g 42%
Total Carbohydrates 5g 2%
Protein 8g 16%
* Percent Daily Values are based on a 2000 calorie diet.
/
Breakfast With Only 5 Carbs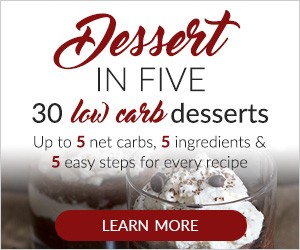 Add all the base ingredients into a bowl, melt the butter in the microwave for 30 seconds and mix together in a bowl.

In a cake tin, line the inside with baking paper and press the base mixture into the bottom of the tin. I usually press it just to the bottom because the sides become too thin

Place the tin in the fridge and continue to follow the steps. Turn the oven on and select 140 degrees C (280 F) if fan forced, otherwise 160 degrees (320 F).

In a mixing bowl, add the cream cheese and the sour cream together, along with the vanilla essence and the lemon zest. Add 1 Egg to the bowl and begin to mix together (I use electric beaters to get a good consistency). As the mixture begins to mix slightly, add another egg and continue to mix. Add the last egg and continue to mix.

Take the base out of the fridge and fill the tin with the cheese mixture. Put into the oven and bake for 45 - 50 mins.

Check the cheesecake by pushing a spike into the middle. If it comes out clean then the cake is ready. Leave the oven slight open and leave the cake in the oven for another 30 mins to cool slowly. Put in the fridge for another 60 mins and enjoy!
You Will Love These Too!