Keto Bread
When you switch to a ketogenic diet, for most people it is very hard to give up carbohydrates such as bread and pasta. This keto bread makes the switch much easier, easily being able to still have sandwiches and toast.
I didn't want to release a keto bread recipe without finding the perfect mix of ingredients that I thought was right.
Most bread recipes can taste very eggy, or crumble very easily. This one binds really well with the addition of xanthium gum, holding all the goodness together.
It's much easier on a ketogenic diet to gradually switch out the bread and toast products with other healthier options. Getting enough electrolytes relies on having plenty of green vegetables in your diet, so make sure this is your main priority.
Nutrition Facts
Keto Bread
Amount Per Serving
Calories 278
Calories from Fat 252
% Daily Value*
Total Fat 28g 43%
Total Carbohydrates 2g 1%
Protein 9g 18%
* Percent Daily Values are based on a 2000 calorie diet.
Keto Bread Saves The Day
Having eggs on toast…. Without the toast… just sucks! So having bread for the occasional times when needed is a real blessing.
Make sure when you make this recipe, that you place baking paper in the tray whilst baking. The first time I did this, was without baking paper. Trust me, this is not what you want to be scraping out of the tin.
Kerrygold butter is the best butter to use, but here in Australia, Kerrygold can be expensive. Westgold butter is a great alternative and tastes great in the keto bread. You can use anything, but make sure its grass-fed.
If you want to know more about what different types of butter are best for what, you can read my guide on butter for some clarification.
Butter from grass-fed cows is also much higher in Omega-3 fatty acids and vitamin K2, compared to butter from grain-fed cows. As you can see, butter from grass-fed cows is a much healthier and more nutritious choice.
If you really love this recipe, or find one of the photos drool worthy, then share it with your friends.
Friends don't let friends eat carbs!
Breakfast With Only 5 Carbs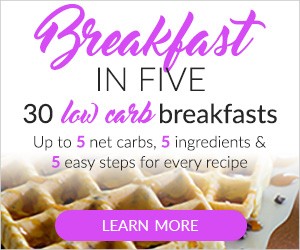 Preheat oven to 160 c (350f)

Put the eggs into a bowl and beat for 1 - 2 mins on high.

Add coconut oil and melted butter to eggs, continue beating.

Add remaining ingredients. Will become quite thick

Scrape into a loaf pan lined with baking paper.

Bake for 40 minutes. (Remove once a skewer comes out of the middle clean).